Notice: Event Services Closed
Rob's event services are currently CLOSED for a winter break January- April 2022. He will NOT be taking enquires during this time. If you're considering a date in the future, please contact him in May 2022.
Learn to Caricature Parties!
You provide the space, Caricaturist Rob Milton provides the entertaining lesson.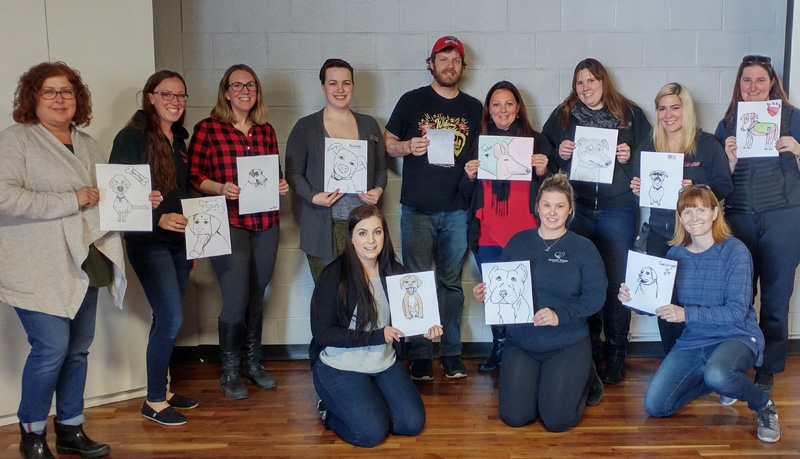 Happy students from a Learn to Caricature Party featuring dog caricatures
About Learn to Draw Parties:
Rob will come to your event venue and teach how to draw caricatures in an entertaining workshop that's perfect for artists of any level wanting to dabble in the art of caricature. No experience necessary.
Classes are designed to run 90 minutes and perfect for up to 30 adults or teens.
This unique entertainment is perfect for birthday parties, team building events, office parties, bachelorette parties, and other events.
Class includes:
-A brief demonstration showing techniques used by caricature artists; fundamentals of portrait proportion, composition, exaggeration and simplification.
-Time for guests to practice drawing caricatures with guidance from an experienced professional caricature artist. Guest will draw from photos they have prepared. Using photo's of other guests is recommended, a sure way to create interaction and excitement.
-All supplies needed to create a caricature; paper, pencils and markers.
Party Host should provide:
-Chairs and table space for all guests.
-Refreshments for guests if desired.
Guests should prepare:
-A photo in print or on phone of someone they want to draw. Using photo's of other guests is recommended to create a fun atmosphere.
-An open mind and a sense of humour!